For parents of a newborn, a bassinet stroller is an essential item. After all, it is one of the most convenient ways to get your baby from place to place with ease and comfort. But how do you choose the best bassinet stroller for your baby?
There are so many different types on the market today and each one has its own set of features that can make it difficult to determine which one is right for your needs. In this article, we will discuss what you need to consider when selecting the perfect bassinet stroller for your little one.
What is a Baby Bassinet Stroller?
A bassinet stroller combines the comfort of a traditional baby cart with the convenience of a modern pram or buggy. It's designed so that the seat part can be removed from the frame so that it can work both as an infant carriage and as a traditional pushchair or pram once your child has outgrown it.
This gives you more flexibility when taking your little one on trips outside or around town, as well as at home.
The seat part of the bassinet resembles an enclosed crib or bed with padded walls and sides to keep your baby secure and cozy inside while in use. It also provides ample headroom, making it easier for parents to watch their sleeping newborns while they are in motion.
The bassinets usually come with suspension systems that help absorb shocks from rough terrain, allowing smoother rides for infants who may not yet have strong support muscles in their spine or neck.
What To Look For When Selecting A Baby Bassinet Stroller
When choosing a baby bassinet stroller, there are some important things to keep in mind.
Safety Features
Check for locking mechanisms that prevent it from tipping over. Look for brake levers so they can be stopped quickly if needed. The straps should be adjustable so your baby won't slip out during movement.
Consider models with reflectors/lights near the wheels for nighttime strolls. Also, look for models with large brakes on both wheels as well as padded shoulder harnesses to ensure the utmost comfort, protection and safety for your baby while riding in their new stroller.
Comfort & Ease Of Use
The padding should be comfortable but not too soft so it won't create air gaps on uneven surfaces like sidewalks. Adjustable tie-downs help to ensure that your infant stays safely secured inside even after long rides.
Storage Space
Look for a bassinet stroller that has plenty of storage space beneath the seat or inside pockets where you can store diapers, wipes, toys, and other items needed during trips outside with your baby. Many models also come equipped with snack trays or cup holders so you don't have to worry about juggling multiple items at once while out with little ones in tow!
Weatherproofing
Weatherproofing features such as waterproof fabrics or removable covers help protect against wind and rain while keeping your baby warm inside their carriage.
Tips For Using A Baby Bassinet Stroller
1) Make sure the straps are not too tight or too loose;
2) Look for pockets to store things you might need on a longer trip;
3) Check underneath the stroller for dirt, debris or obstacles;
4) Push down the handle and make sure the front wheels turn freely;
5) Fasten the waist restraint securely before heading out - this way your baby won't fall out during bumps in the road.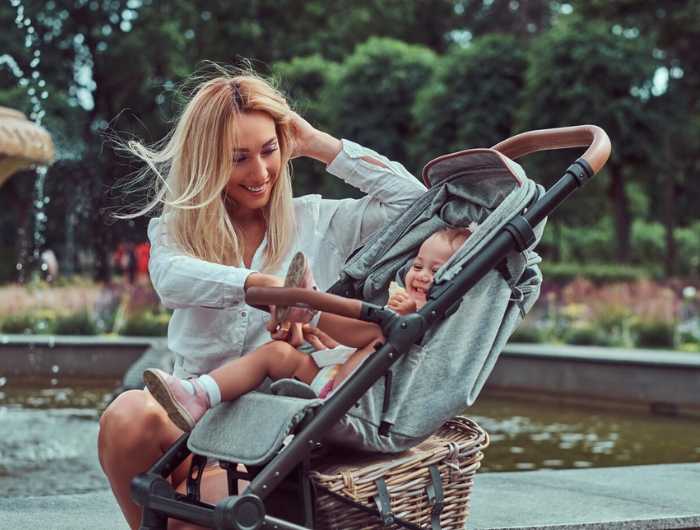 Conclusion
Selecting the right bassinet stroller can be a daunting task but taking into consideration factors such as size, safety features, storage space and weatherproofing options you will find a great model. And if you need a little extra help with your choice then check out our article 'Discover The 12 Best Bassinet Strollers On The Market' to learn more about bassinet strollers and make an informed decision!