Are you a new mother feeling overwhelmed by the endless stream of unsolicited advice from well-meaning family and friends? Let me tell you, you're not alone. As a fellow mom, I know exactly how you feel. During those first few months with a newborn, every bit of help is appreciated.
That's why I'm here to share with you some of the best books for any new parent. Books that will provide you with invaluable information, help you navigate the transition into motherhood, and ultimately make your life easier.
You may wonder why bother with books when there's already so much information online? Well, these books are trusted resources that you can count on. They're written by professionals who have years of experience in their field, offering tips and advice that are backed up by scientific research. Plus, you can read them at your own pace, on your own time. Advice is just a page-turn away!
Our Top Picks
Best for Pregnancy
What to Expect When You're Expecting
Most Entertaining
Belly Laughs: The Naked Truth about Pregnancy and Childbirth
Easiest To Understand
The Simplest Baby Book in the World
Best for The First Year
What to Expect The First Year
Best for Understanding Behavioral Changes
The Wonder Weeks
Best for First Time Dads
The Baby Owner's Manual
Best Data-Centered Approach
Cribsheet
Best for Calming Babies
The Happiest Baby on The Block
Best for Postpartum
The Fourth Trimester
Best Advice for Breastfeeding
Ina May's Guide to Breastfeeding
Most Mindful Book
The Montessori Baby
Best Book on Child Development
The Whole-Brain Child
Best for Communicating with your Baby
Baby Sign Language Made Easy
Best for Natural Childbirth
Ina May's Guide to Childbirth
Best for Building a Strong Relationship with your Child
The Book You Wish Your Parents Had Read
---
What to Expect When You're Expecting
What We Love About It
You're expecting! Congratulations! It's such an exciting time, but it can also be overwhelming, let's be honest. From morning sickness to weird cravings to planning for your baby's arrival, it's a lot to take in. But don't worry, "What To Expect When You're Expecting" is here to guide you through every step of the way.
This book is a wealth of knowledge, answering all of your pressing questions on your pregnancy journey with practical advice, easy-to-use tips, and plenty of reassurance. Wondering about prenatal screenings, safe medications, and birthing options? This book has got you covered.
And your pregnancy lifestyle is just as important, from eating trends to travel to beauty. Whether you're expecting multiples or becoming a dad, this book is a must-have for growing your family.
Belly Laughs: The Naked Truth about Pregnancy and Childbirth
What We Love About It
Hey there, Mama! If you're pregnant or thinking about becoming pregnant, you absolutely need to read Jenny McCarthy's "Belly Laughs: The Naked Truth about Pregnancy and Childbirth". This New York Times bestseller is chock full of hilarious and honest details about pregnancy that no one else is talking about!
Jenny tells it like it is with her trademark wit and humor. She covers everything from morning sickness to delivery, and yes, even the joys of wearing granny panties. You'll laugh out loud as you read about hormonal rage and the pains you never knew existed.
But don't let the humor fool you, Jenny also offers some seriously helpful advice and tips. "Belly Laughs" is a must-read for any woman who wants the truth about what to expect when you're expecting. Trust us, you won't be able to put it down!
The Simplest Baby Book in the World
What We Love About It
Are you feeling overwhelmed with all the information out there about raising a baby? Look no further than The Simplest Baby Book in the World. This grab-and-do guide has over 700 illustrations to make learning about baby care fast and easy.
From sleep training and feeding to bath time and preparing the perfect nursery, this book has everything you need to know for your baby's first year. Plus, every chapter starts with a checklist of essential products to have on hand.
The Simplest Baby Book is perfect for all parents, whether you're a mom or a dad. Say goodbye to complicated baby books and hello to simplicity with The Simplest Baby Book in the World.
What to Expect The First Year
What We Love About It
"What to Expect The First Year" is the world's best-selling guide to help any parent navigate through the challenges of the first year. The newly revised third edition is even better than before. With a month-by-month format, you can take things one step at a time.
The new edition is easier to read, faster to flip through, and packed with even more relatable information. The book covers hot-button topics like attachment parenting and baby-led weaning, and there's an all-new chapter on buying baby products.
You can also learn how to prepare homemade baby food and get the latest recommendations on starting solids. The book also talks about screen time, its impact, and even has sections for mom's and dad's needs. It's the ultimate must-have for a new mama.
The Wonder Weeks
What We Love About It
Are you a new parent who often finds themselves asking, "Why is my baby so fussy?" Look no further than The Wonder Weeks, the modern sixth edition of the parenting classic.
This expert guide maps out the developmental leaps every baby goes through in their first 20 months, and explains why your little one might be clingy, cranky, or crying during those periods. Based on decades of research, this book helps you anticipate those "stormy weeks" and supports your baby's brain development.
Plus, with included checklists and games, you can learn more about your baby's personality and have fun. Don't miss out on this phenomenon embraced by parents worldwide - over 2 million copies have been sold!
The Baby Owner's Manual
What We Love About It
The Baby Owner's Manual is the perfect beginner's guide to newborn baby technology. This parenting book offers step-by-step instructions, FAQs, and schematics to help new parents navigate their way through the early stages of parenthood.
Get ready to learn how to properly install your little one, from storing to holding and comforting techniques. You'll also get an in-depth guide to feeding, including breastfeeding and solid food options. Learn how to configure your baby's sleeping area and manage overstimulation issues. And don't forget about general maintenance, including diaper installation and sanitation tips.
Not only that, but this manual also covers growth and development milestones, advanced motor and sensory skills, and even emergency maintenance procedures.
Cribsheet
What We Love About It
Cribsheet by Emily Oster can be your go-to guide to help you make informed decisions. As an award-winning economist, Oster uses data to debunk myths around breastfeeding, sleep training, potty training, language acquisition, and many other early parenting topics.
She empowers you to think for yourself and make the best decisions for your family. Cribsheet is a refreshing and informative read that will help calm your nerves and arm you with the necessary information to make the best choices for your little one.
The Happiest Baby on The Block
What We Love About It
Are you tired of feeling helpless when your baby can't stop crying? Look no further than "The Happiest Baby on The Block." Dr. Harvey Karp's innovative techniques for soothing babies and promoting sleep are fully updated in this best-selling book, and are trusted by thousands of parents - even Hollywood superstars!
Dr. Karp uses four revolutionary concepts to help parents understand why their baby might be crying and how to easily soothe them. With the fourth trimester in mind, the calming reflex, simple 5 S's steps, and the cuddle cure, Dr. Karp's advice will help even the fussiest baby become the happiest baby on the block!
The Fourth Trimester
What We Love About It
Are you currently navigating the exciting yet challenging fourth trimester? If you're looking for guidance and support, look no further than "The Fourth Trimester" by Kimberly Ann Johnson. This comprehensive guide offers practical advice to support women through postpartum healing on all levels - physical, emotional, relational, and spiritual.
Drawing from years of experience as a doula and women's health care advocate, Johnson covers everything from preparing your body for birth to strengthening your relationships as a new mother.
With simple practices and home remedies to facilitate healing and restore energy, you'll have the tools you need to thrive during this important transition. Don't miss out on this valuable resource!
Ina May's Guide to Breastfeeding
What We Love About It
Ina May's Guide to Breastfeeding is a must-read! This book is packed with decades of experience and advice on how to have a joyful, natural, and fulfilling breastfeeding journey with your baby.
Discover the benefits of breastfeeding and get helpful tips on nursing challenges. Also learn about pumping and other nursing products, and much more. You will find answers to virtually every question you have on breastfeeding, all backed up by medical facts and real-life stories.
Whether you're a first-time mom or a seasoned pro, Ina May's Guide to Breastfeeding is the ultimate resource to help you connect with your baby and your own body.
The Montessori Baby
What We Love About It
If you're looking for a guide on how to raise your baby with love, respect, and insight, The Montessori Baby is the book for you. Following the principles of Dr Maria Montessori, this book provides practical ideas and active observation techniques to help you ease your baby's learning and development.
It's filled with tips and tricks, from preparing yourself for parenthood to creating Montessori spaces in your home.
With easy-to-follow instructions on setting up activities that encourage your baby's movement and language development at their own pace, you can raise a secure, confident baby who's ready to explore the world.
The Whole-Brain Child
What We Love About It
Are you looking for effective ways to handle your child's struggles? Look no further than "The Whole-Brain Child". Authors Daniel Siegel and Tina Payne Bryson offer twelve key strategies to promote healthy brain development and happier children.
This pioneering book presents accessible science on how a child's brain matures in a practical way. Did you know that a child's "upstairs brain" is under construction until their mid-20s and that emotions rule over logic in young children? With these discoveries, parents can turn everyday struggles into chances for vital growth.
Complete with age-appropriate solutions and illustrations, "The Whole-Brain Child" helps you foster your child's emotional and intellectual skills for a balanced, meaningful life.
Baby Sign Language Made Easy
What We Love About It
Looking for an easy and fun way to communicate with your baby? Look no further than "Baby Sign Language Made Easy"! This guide is perfect for parents of babies and toddlers aged 0 to 3 who want to start teaching their little ones basic ASL signs to help them express themselves.
With 101 everyday signs, you'll learn how to teach your child how to communicate their needs, feelings, and wants. The book is organized by topics, making it easy to find the signs you need for specific situations.
Plus, with guidance on getting started and capturing your baby's attention, even beginners can learn how to teach baby sign language. Start communicating with your baby today!
Ina May's Guide to Childbirth Updated With New Material
What We Love About It
Ina May's Guide to Childbirth is a comprehensive guide to help you experience natural childbirth. Drawing from over 30 years of experience, the nation's leading midwife shares her wisdom on how to trust your body and achieve a fulfilling and healthy birthing experience.
Discover how to reduce labor pain without medication. Learn the miraculous role that touch and massage play. Explore the miracle of orgasmic birth and how to make birth a pleasurable experience.
This invaluable resource covers everything from common labor methods to avoid postpartum bleeding and depression. Get ready to restore your faith in the natural power of your body and experience birth with less pain and medical intervention.
The Book You Wish Your Parents Had Read
Do you wish you had better communication with your partner or children? This book is the ultimate guide to understanding the essential do's and don'ts of relationships. Perry's expert advice is practical, non-judgmental, and most importantly, achievable.
No matter your age or background, this book has something to teach you about the effect your upbringing has on your relationships. You'll walk away with realistic tips to enhance your relationships with your loved ones. Get ready for a happier, healthier you with "The Book You Wish Your Parents Had Read"
Final Thoughts
And there you have it, new moms! A comprehensive list of the best parenting and pregnancy books for navigating your new life with a new baby. Amidst all the noise of advice and opinions, these books will provide you with knowledge, humor, and support in your parenting journey.
Whether you want to learn about sleep training, breastfeeding, or simply need a good laugh, these books have got you covered. So snuggle up with your little one and dive into the wonderful world of parenting books.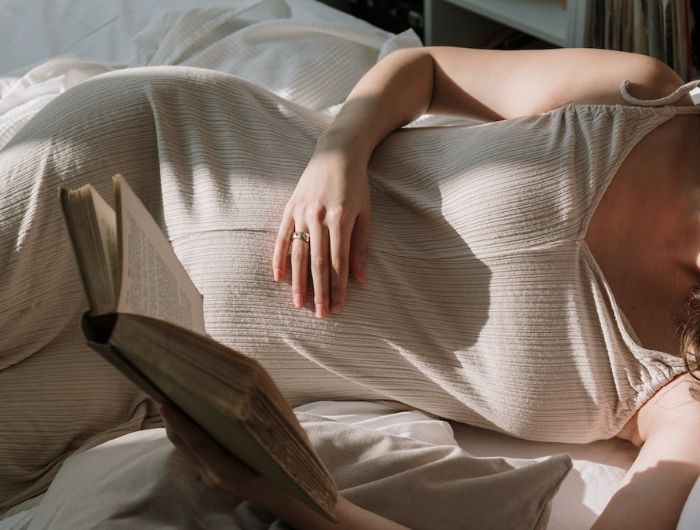 Thank you for reading Mother Bear Reviews, your favorite review blog!