How to choose a baby swing: Start by considering safety features, multiple speed settings, reclining options, portability, ease of cleaning, and extra features like music, vibrations, or toys for entertainment.
Find out more details and tips in our post.
If you are a new parent, you might be wondering how to choose a baby swing for your family. The best baby swings can be lifesavers when you need to soothe your fussy baby, or when you want to have some hands-free time to do other things. It's important not to compromise on baby swing safety when making your choice.
In this blog post, we will share with you some tips and factors to consider when choosing the top baby swings.
We will also give you some recommendations for the best swings for babies on the market, based on my own experience and research.
What Is A Baby Swing And Why Do You Need One?
A baby swing is a device that mimics the rocking motion of a mother's arms or a cradle. It usually has a seat that can recline or sit upright and a motor that can swing the seat back and forth or side to side. Some baby swings also have features like music, sounds, lights, toys, and vibration. A baby swing can meet many needs.
A baby swing can be very helpful for parents who need a break from holding or rocking their baby. It can also provide stimulation and entertainment for your baby, and help them fall asleep faster and stay asleep longer. Remember when your baby falls asleep in a swing, it's best to move them to a safe sleep environment with a flat, firm surface. A baby swing can also be useful for babies who suffer from colic, reflux, or gas, as the swinging motion can help ease their discomfort.
However, a baby swing is not a substitute for human interaction or supervision. You should always keep an eye on your baby when they are in the swing, and limit their time in the swing to no more than an hour per day. You should also stop using the swing when your baby can sit up on their own, roll over, or reach the weight limit of the swing.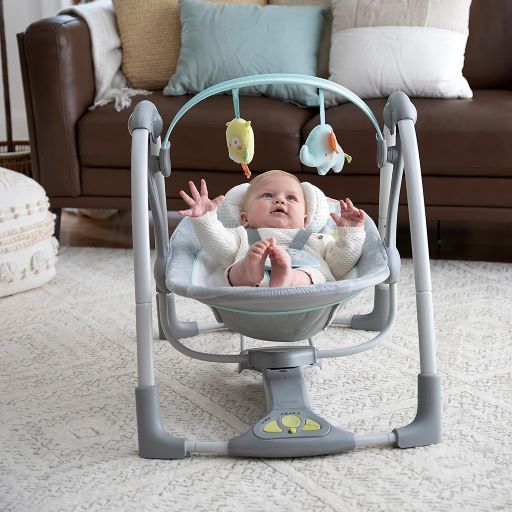 What Factors Should You Consider When Choosing A Baby Swing?
There are many factors to consider when choosing a baby swing, such as:
Safety
The most important factor is safety. Make sure that the swing meets the safety standards of your country, and that it has a sturdy base, a secure harness, and a comfortable seat. Check the reviews and ratings of the swing online, and look for any recalls or complaints.
Any baby swing you purchase should have a five-point harness to keep your baby secure at all times. A five-point harness consists of shoulder straps, waist straps, and a crotch strap. It is designed to keep your baby from slipping out of the swing or getting injured.
Size
The size of the swing matters both for your baby and for your space. You want to choose a swing that fits your baby comfortably, but not too snugly. You also want to choose a swing that fits your space well, and that you can easily move around or store away when not in use.
A compact baby swing is great if you have limited space or plan on moving it from one location to another. A portable swing, on the other hand, is ideal if you plan on taking your baby with you when you travel. Some portable baby swings even come with a built-in handle for easy transport.
Seat
Most swings come with adjustable seat positions, from upright to the most reclined position. Keep in mind that your baby prefers different positions at different stages of development, so it's important to check the manual before adjusting the seat. You should also ensure that the swing has stable footing or is secured to the ground.
One important consideration when choosing a baby swing is comfort. Make sure the swing has soft, comfortable fabric and padding that is gentle to your baby's skin. Most swings also offer different speeds and motions to mimic the soothing motion of a mother's womb.
Weight
There are a few things you should consider when selecting infant swings. The first thing to look for is the swing's weight limit. Make sure that the baby swing you select can accommodate your baby's weight. Most infant swings are designed to support babies from birth to about six months old, depending on their weight. Different swings have different weight limits, but most of them can hold babies up to 25 to 30 pounds.
Power source
The power source of the swing determines how long it can run and how much noise it makes. Some swings are battery-operated, which means you have to replace the batteries frequently and deal with the noise of the motor. Some swings are plug-in, which means you have to find an outlet nearby and deal with the cord. Some swings are both battery-operated and plug-in, which gives you more flexibility.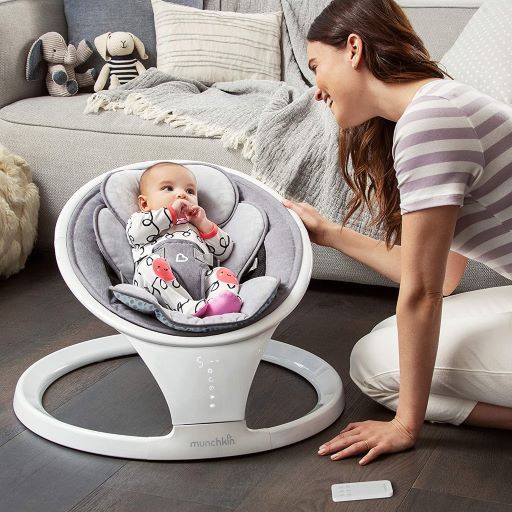 The features of the swing depend on your personal preference and your budget. Some features that you might want to look for are:
Speed settings
You want to choose a swing that has different speed settings, so you can adjust it according to your baby's mood and preference.
Motion direction
You want to choose a swing that has different motion directions, such as back and forth or side to side, so you can vary the stimulation for your baby.
Music and sounds
You want to choose a swing that has music and sounds that are soothing and relaxing for your baby and that you can control the volume and duration of.
Lights and toys
You want to choose a swing that has lights and toys that are engaging and fun for your baby, but not too distracting or overstimulating.
Vibration
You want to choose a swing that has a vibration that can calm and comfort your baby, especially if they have colic or reflux.
Recline position
You want to choose a swing that has recline positions that can support your baby's head and neck, especially if they are newborns or infants.
Washable seat
You want to choose a swing that has a washable seat that is easy to remove and clean.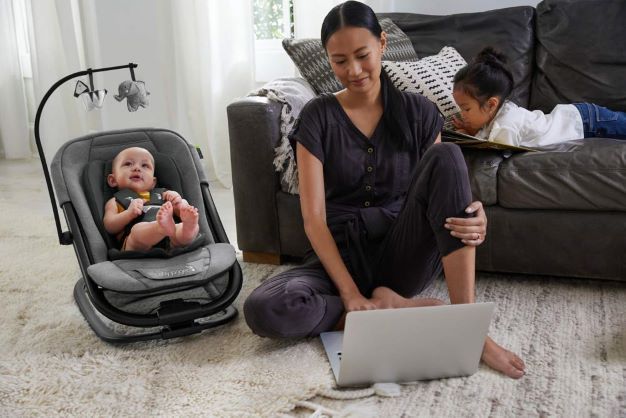 What's The Difference Between Baby Swing And Baby Bouncer?
A baby swing and a baby bouncer are both pieces of baby gear that can rock your baby and make them feel comfortable. The main difference is that a baby swing is electric or battery-powered and swings your baby back and forth or side to side by itself. A baby bouncer is more basic and needs you or your baby to bounce it up and down.
A baby swing usually has more features, such as speed settings, toys, and music, but it also takes more space, power, and money. A baby bouncer is more lightweight, portable, and quiet, but it also has fewer options for entertainment. Some babies may prefer one type of motion over the other, so it depends on what your baby likes.
Conclusion
In summary, baby swing safety is of the utmost importance when selecting an infant swing. The five-point harness, stable footing, and sturdy frame should be your top priority. Don't forget that different babies may prefer different seat positions or swing features, so keep these in mind as well. With these features in mind, you should be able to choose a safe and comfortable swing that will keep your baby happy and content while providing you with some much-needed rest.
Thank you for reading Mother Bear Reviews, your favorite parenting blog!