Parenting comes with a lot of costs, and it can be hard to decide which items are worth the money. A stroller organizer is one such item that many parents consider investing in. But what is it, and why should you get one? What features to look for when you buy one? In this blog post, we'll break down the purpose of a stroller organizer and how it can help make your parenting journey smoother.
What Is A Stroller Organizer
A stroller organizer is an accessory for your stroller that provides extra storage space for all your belongings. It attaches to the handlebar or back of your stroller, giving you easy access to items you need while out and about with your children. Items like snacks, drinks, toys, and phone chargers. This way you don't have to carry around an extra bag or keep items tucked away in pockets or zippered compartments of your stroller.
Benefits Of A Stroller Organizer
There are many benefits to having a stroller organizer, including convenience. With easy access to whatever items you need, there's no more fumbling around trying to find things when you're out on the go. There's no more digging through pockets or bags looking for lost items!
Furthermore, some of these organizers come with insulated pockets designed to fit bottles and sippy cups. This is something that can be very helpful when dealing with thirsty kids in public places!
Finally, these organizers come in different styles and materials so you can choose one that best fits both your budget and aesthetic preferences. Some models even come with insulated compartments so drinks stay cold longer!
Cost Considerations
Prices range from $15-$40, depending on the size, features, and design of the stroller organizer. Some of the pricier organizers also double as diaper bags, which justifies the price tag. Yet this is an extremely cost-effective solution that should be factored in when budgeting for other baby items.
Size Considerations
The size of the stroller matters when selecting an organizer. For example, if you choose a large organizer for a smaller stroller, it may be too bulky and interfere with other features like reclining options. But an organizer that is too small might not fit all the items you want to store. Consider beforehand which items you plan to store in the stroller organizer and make sure to select one that fits with your stroller type.
What Goes In A Stroller Organizer
Essentials you'll need include nappies, wipes, nappy bags, and spare clothing. If you're going for a long walk or planning to be out for a few hours, snacks also come in handy - plus hats and sunglasses if the weather is warm!
Keep important documents like passports securely tucked away too. Other useful items can range from bottles of water to toys. It comes down to personal preference depending on where you're headed and how long the journey will take.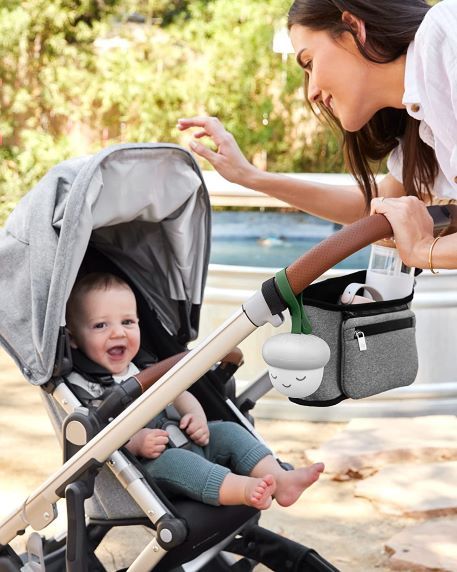 Conclusion
All in all, investing in a stroller organizer can be very beneficial for parents who often find themselves out on the go with their children. Not only do they provide convenient storage options but they also help keep things organized while adding some style points too! So if you're thinking about getting one for yourself you can rest assured knowing it will certainly be worth the investment!
To make your search for the perfect stroller companion easier, we have put together a list of the top organizer on the market available. Find out more and check out our article 'Keep It All Together With The 11 Best Stroller Organizer'.