Are you in the market for a stroller organizer? If so, you've come to the right place! In this post, we'll take a look at five things to consider when choosing an organizer for your stroller. From space and storage capacity to comfort and convenience, we'll cover it all. So, let's get started!
What Is A Stroller Organizer
A stroller organizer is a slender storage bag that can attach to your stroller. This gives you the convenience of having everything you need close by. From snacks to diapers, toys, and more, it makes for easier access to everything you need. It's organized and easy to use and can be quickly installed onto any stroller.
With pockets, cup holders, and attachment straps, you can rest assured that you'll never forget or lose anything during your next outing. This make stroller organizers a necessary and convenient addition to any stroller.
Attachable straps offer a secure fit even during brisk walks or jogs, ensuring that you don't have to worry about losing anything.
Storage Capacity
Storage capacity is one of the most important things to consider when shopping for a stroller organizer. If you plan on using your stroller for everyday errands or longer trips, you'll want an organizer with plenty of room for all your belongings.
Look for organizers with many compartments and pockets – these will help you stay organized and make it easier to find what you need quickly. Make sure that the pockets are large enough for whatever items you plan on bringing along as well.
Comfort & Convenience
When it comes to choosing a stroller organizer, comfort and convenience are key. Look for organizers made from lightweight materials that won't add too much bulk or weight to your stroller. You should also make sure that the straps are adjustable so that they fit comfortably around the handlebars of your stroller without slipping or sliding.
Additionally, look for organizers with handles or straps that can transform into a carrier or messenger bag. This will make it much easier if you ever need to take the organizer in and out of your vehicle or store it away while traveling.
Durability & Construction
Durability is essential when shopping for a stroller organizer – after all, you don't want yours falling apart after only a few uses! Make sure the construction is top-notch by looking at reviews online and checking out materials used in its manufacture.
Opting for an organizer made from durable fabrics such as canvas or nylon will ensure that it can stand up against wear and tear over time. And if possible, try to find one with reinforced seams; this will help keep it from coming apart at the seams during use (literally!).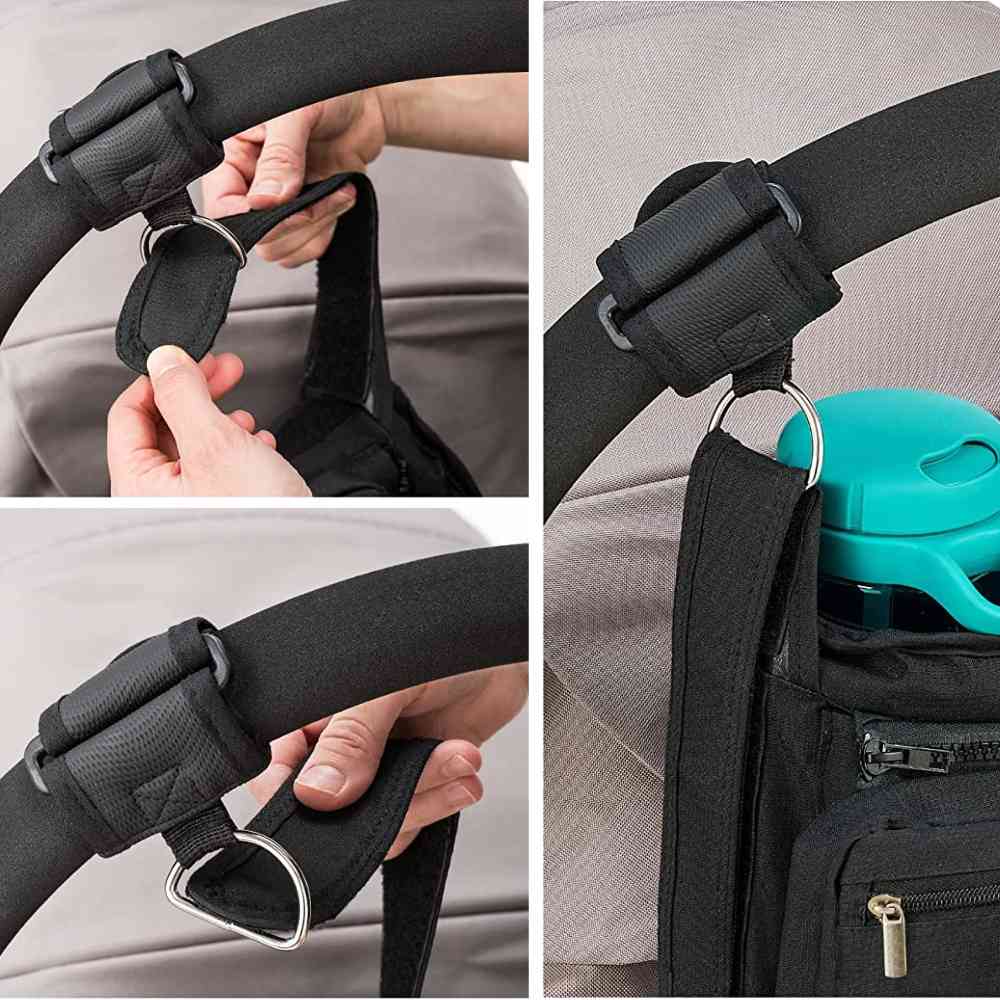 How To Attach A Stroller Organizer
Attaching a stroller organizer can seem like a tricky task, but it doesn't have to be. By understanding the right steps and following them carefully, anyone can get the job done in no time.
First, line up the Velcro parts of the organizer with the loops on the stroller handlebar. Next, press down hard to securely attach them. Finally, use the two adjustable straps to fit it even tighter around your handlebar and you're done. Yes, it is that easy!
How To Clean A Stroller Organizer
When it comes to cleaning your stroller organizer, the best thing to do is give it a thorough scrubbing. Start by prepping the surface with mild soapy water, using a soft cloth or sponge to agitate any stuck-on debris. If you find any areas in need of an extra boost, try using an old toothbrush for precise cleaning.
After wiping away all dirt and dust, rinse the organizer off with warm water and dry it with a fresh cloth or towel. Once your stroller is looking like new again, keep up regular upkeep by wiping down or vacuuming often. Don't forget that a little tender love and care go a long way when it comes to taking care of your stroller organizer!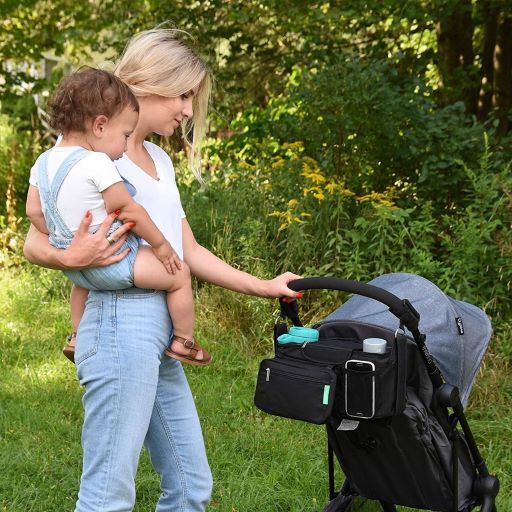 Conclusion
A good quality stroller organizer can make life with a baby much easier – no matter where life takes you together! When choosing one, be sure to consider storage capacity, comfort & convenience, durability & construction, as well as any special features like straps or handles that may be included.
To make your search for the perfect stroller companion easier, we have put together a list of the top organizer on the market available. Find out more and check out our article 'Keep It All Together With The 11 Best Stroller Organizer'.