As a parent, keeping your baby cool and comfortable is a top priority when out and about. But with summer temperatures soaring, many single strollers are unable to provide that much needed extra cooling breeze. If this sounds familiar to you, then it's time to consider investing in a stroller fan! To help you with you choice, let's take a look at the different types of stroller fans that exist and what they offer.
Clip-On Fans
These are the most basic type of stroller fans. They are small, lightweight, and easy to attach to the stroller's canopy or handlebars. Clip-on fans usually have two or three wind speeds and run on batteries. Some even have a clip that doubles as a stand, so you can use the fan without attaching it to the stroller. And when you are done using it, you can store it in your stroller organizer.
Clip-on fans are great because they are very affordable and can be used with just about any type of stroller. However, they do tend to be less powerful than other types of stroller fans, so they may not be sufficient if you live in a particularly hot climate.
Strap-On Fans
Strap-on fans are similar to clip-on fans but usually have more adjustable straps, so they can be attached in more places on the stroller. They also tend to be more powerful than clip-on fans. Like clip-on fans, strap-on fans are very affordable and can be used with just about any type of stroller. However, they can also be less durable than some of the other options on this list.
Rechargeable Fans
Rechargeable fans are great because you don't have to keep buying batteries for them. They usually come with a USB cord that can be plugged into your computer or into a portable charger. Rechargeable battery life will vary depending on the fan, but most will run for 2-8 hours on a full charge. These types of fans are more expensive than clip-on or strap-on fans but they tend to be much more durable. They also offer more features, such as LED lights and remote controls.
Solar Powered Fans
Solar powered fans are environmentally friendly because they use renewable energy from the sun to power the fan. These types of fans usually have a panel that attaches to the top of the stroller's canopy and converts sunlight into electricity that is stored in a built-in battery. Solar powered fans tend to be very lightweight and durable since they don't have any cords or batteries that can break or add extra weight to the stroller. However, they usually don't offer as many features as some of the other types of stroller fans on this list.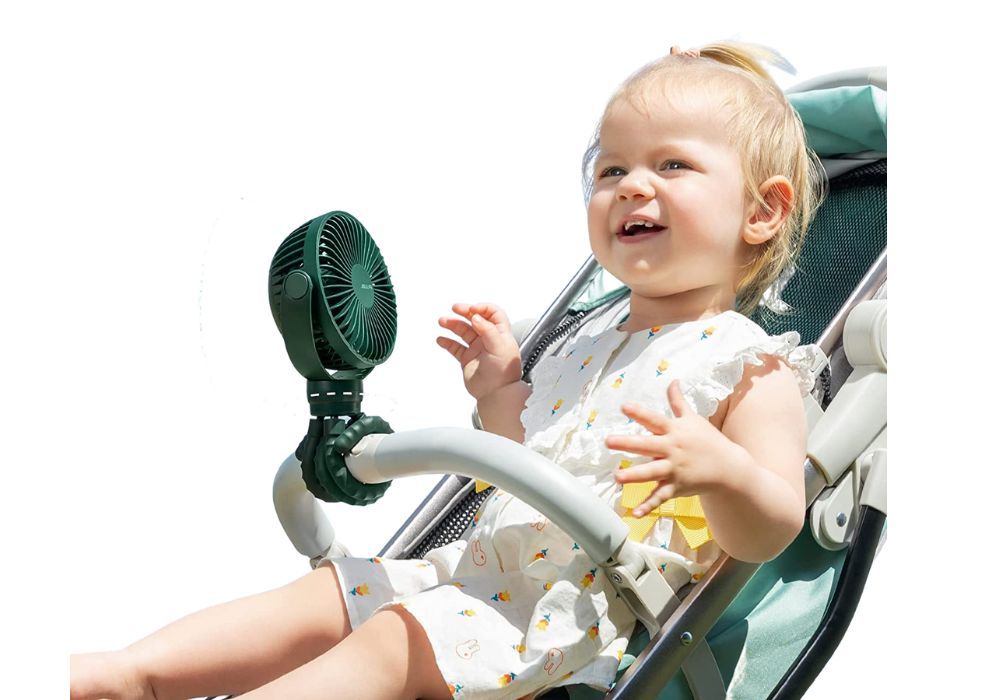 Conclusion
The best type of fan for you will depend on your individual needs and preferences. Do you live in a hot climate? Do you want a fan that is rechargeable? Do you want extra features like an LED light or remote control?
Deciding on the best one can be overwhelming and confusing - but fortunately, there's help! Check out our article on the 'Best Stroller Fans' for some great advice on choosing the perfect stroller fan for you and your little one. Beat the heat today and invest in the best stroller fan - you won't regret it!