Fishing with kids can be a fun, rewarding experience for everyone involved. After all, nothing beats the feeling of teaching your little ones about the great outdoors and catching their first fish. But before you take your children fishing, there are a few things you need to know and prepare. Read on to learn all about what you need for fishing with kids.
The Right Gear
Fishing with kids is an adventure, so make sure they're outfitted in the right gear. First and foremost, safety should always come first when fishing with children. Make sure they have life jackets on at all times if you're near open water or in a boat. If you'll be spending multiple hours out in the sun, make sure your little ones wear hats and sunscreen too!
Next up is the fishing gear itself. While it may seem tempting to buy them their own rod and reel set-up, keep in mind that kids grow fast! Instead of investing in expensive equipment that will quickly become outdated, look into buying adjustable poles so they can grow into them instead of outgrowing them within a couple of months. Additionally, consider purchasing tackle boxes designed specifically for children; these smaller containers will help keep their hooks and bait organized while still being lightweight enough for them to carry around easily.
The Right Spot
When it comes to finding the perfect spot for fishing with kids, there are two important criteria: accessibility and fishability. Accessibility means choosing spots that are close by but also safe from any hazards like cars or trucks driving by or bodies of water too deep for wading (in which case life jackets should always be worn).
Fishability means looking for spots where the fish bite often – shallow waters full of panfish or stocked ponds full of trout are both excellent options here! There are many great starter fish options for children. Just remember that if you plan on keeping any catches from these areas, make sure to check local regulations first!
Snacks
It's always a good idea to bring snacks and drinks when spending a long day outdoors. This will help keep everyone's energy up so you can enjoy your time together as a family.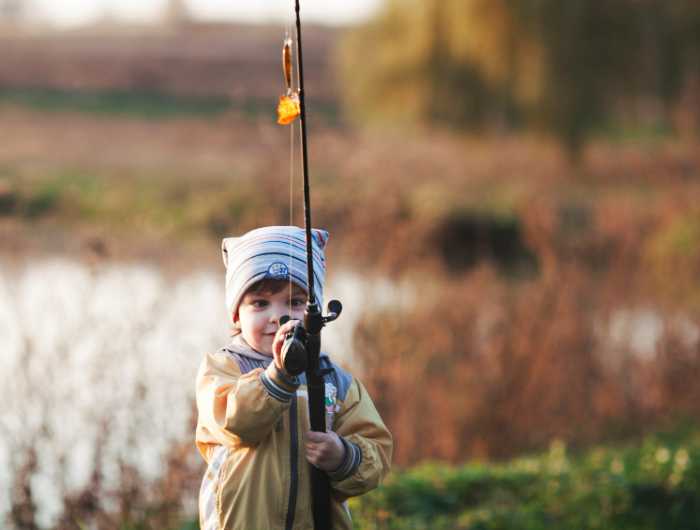 Conclusion
Fishing with kids doesn't have to be complicated – as long as you know what to expect and come prepared! The right gear is essential; stock up on adjustable rods and tackle boxes designed specifically for children before setting off on your next family adventure. When selecting a spot, look for places that offer both accessibility and fishability—safe areas close by with plenty of bites!
And if you need help with finding the right gear then check out our article 'Get The 7 Best Kids Fishing Pole For Your Fishing Trip' for everything you need to know to choose the perfect pole for your kids. So grab your rod & reel today - it's time your family started having some serious fun out on the water!