Going fishing with the kids has many benefits. It is a great way to enjoy the outdoors and make memories that will last. But what should you look for when buying a kids fishing pole? Let's take a look at some of the key features to consider when purchasing a rod and reel combo that your child can use.
Material Matters
When it comes to kids fishing poles, material matters. You want something lightweight yet durable enough to stand up to their antics. The most popular materials are fiberglass, graphite, and composite. Fiberglass is more durable but heavier than graphite; however, graphite poles flex more easily and cast further distances. Another bonus of these materials is that they're typically very affordable, so if your child decides they don't like fishing after all, you won't be out a lot of money.
As your child gets older and more experienced, they may be ready to move up to a more sophisticated rod. For older kids, rods made from composite materials like carbon fiber are often a good choice. These rods are very sensitive, so your child will be able to feel even the lightest bites. They're also quite strong, so they can handle larger fish. The only downside to composite rods is that they can be quite expensive—but if your child is serious about fishing, it's worth the investment.
Reel Size
The size of your kid's reel should be appropriate for their age and strength level. If it's too heavy or too large for them to comfortably handle, they won't have as much fun while fishing—and they might not even be able to control the reel! For younger children (ages 4-7), look for reels labeled as "ultralight" or "ultra-small" in size; these will be easier for them to hold and manipulate. For older children (ages 8-12), larger sizes such as "medium light" or "light" may work better depending on their strength level.
Rod Length & Action
The rod length you choose should also correspond with your child's age range and strength level. Rods come in lengths from 4 feet up to 9 feet, so think about what would be comfortable for them based on these factors. As far as action goes, medium-light action rods are best for kids because they offer more flexibility than stiffer rods but still provide enough power when casting lures out into deeper waters.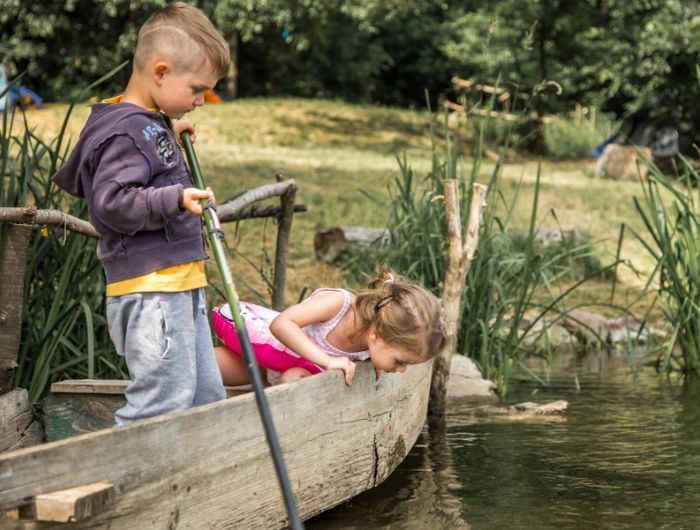 Conclusion
From lightweights rods made from fiberglass or graphite materials down to ultra-small reels that are easy enough for little hands to handle—you'll have no trouble finding something perfect just for them! If you are preparing for a fishing trip you will need to consider more than just the right pole.
And if you need help with finding the right gear then check out our article 'Get The 7 Best Kids Fishing Pole For Your Fishing Trip' for everything you need to know to choose the perfect pole for your kids. So grab your rod & reel today - it's time your family started having some serious fun out on the water!