Buying a stroller can easily be an overwhelming experience. With all of the different options available, it can be difficult to know which one to choose. Convertible strollers offer more flexibility than regular strollers – but with this extra benefit comes additional considerations. Before purchasing your convertible stroller, here are some features you should keep in mind.
Price & Cost
One of the main advantages of convertible strollers is that they are typically more affordable than other types of strollers. You will likely see price differences ($ 200 - $1000) depending on the features, quality, and brand you choose. There may also be additional costs associated with add-ons or accessories such as cup holders and footmuffs.
Researching a variety of models at different price points will help you get the best bang for your buck when selecting the perfect convertible stroller for your family's needs and budget!
Size & Weight
When shopping for a convertible stroller, keep size and weight in mind. Depending on where you live, parking space may be at a premium, or city sidewalks may be narrower than those in suburban neighborhoods. If so, size might become an issue putting a constraint on which models are available to you.
Furthermore, if you plan on taking the unit on public transportation or flights frequently - make sure the airline has no restrictions on certain sizes before investing in any model!
Durability & Maneuverability
Durability is another factor when choosing a convertible stroller – especially if you have active kids who like to jump off curbs or explore rough terrain off-road! Maneuverability is just as important - particularly if you'll frequently take your convertible out onto uneven surfaces such as dirt trails or cobblestoned streets.
Evaluate how easy it is to push different models both empty and loaded down with groceries and/or children; paying close attention to whether it can navigate corners easily or resist tipping over when going up stairs or slopes!
Safety Features
Safety should always be a top priority when considering what type of stroller to purchase for your little ones! The safety latches on modern units tend to be much more secure than those from several years ago however there are still more reliable features offered by luxury brands than entry-level versions - though these often come with hefty price tags attached!
Make sure whatever unit you select includes brakes (that stay locked while in use) as well as reinforced frames with five-point harnesses made from durable fabric - ensuring optimal protection during rides regardless of surface type!
Pros & Cons
Finally – perhaps one of the most important factors when selecting the right convertible stroller for your family is weighing out what works best for them specifically; determining whether slightly larger dimensions are worth sacrificing better maneuverability (and vice versa).
Be sure to look at all pros and cons relative to within their respective categories—this will help narrow down options considerably based upon features that work best under various circumstances (such as sunny days spent outdoors versus trips through busy areas indoors).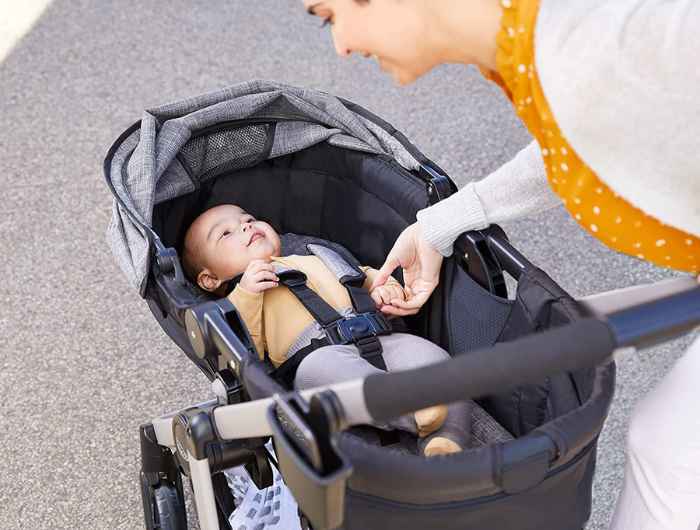 Conclusion
Choosing which convertible stroller works best can seem daunting but ultimately boils down to looking at factors such as cost, size/weight ratios, durability/maneuverability capabilities, safety features available - and overall pros/cons compared between units within their respective categories.
With so many models to choose from it can be hard to decide. We're here to help. Go ahead and check out 'Our Top 12 Choices For The Best Convertible Stroller' for inspiration on which one is best for your family. With so many great models to choose from, you'll be sure to get the perfect one that suits your lifestyle and budget.