Isn't it amazing how our little ones grow up so quickly? One minute they're snug in your arms, the next they're trying to crawl off your lap! As a mom myself, I know how important it is to keep track of their growth. It's not just about marveling at how fast they're growing up, but it's also about ensuring their health and well-being.
That's where a reliable at home baby scale comes in handy! Yes, I'm talking about the secret weapon in any new parent's toolkit - infant scales.
Remember the first time you held your baby? You could feel their tiny weight in your arms, right? Now imagine being able to track your baby's weight gain accurately, safely, and conveniently at home. That's the power of having a great baby scale.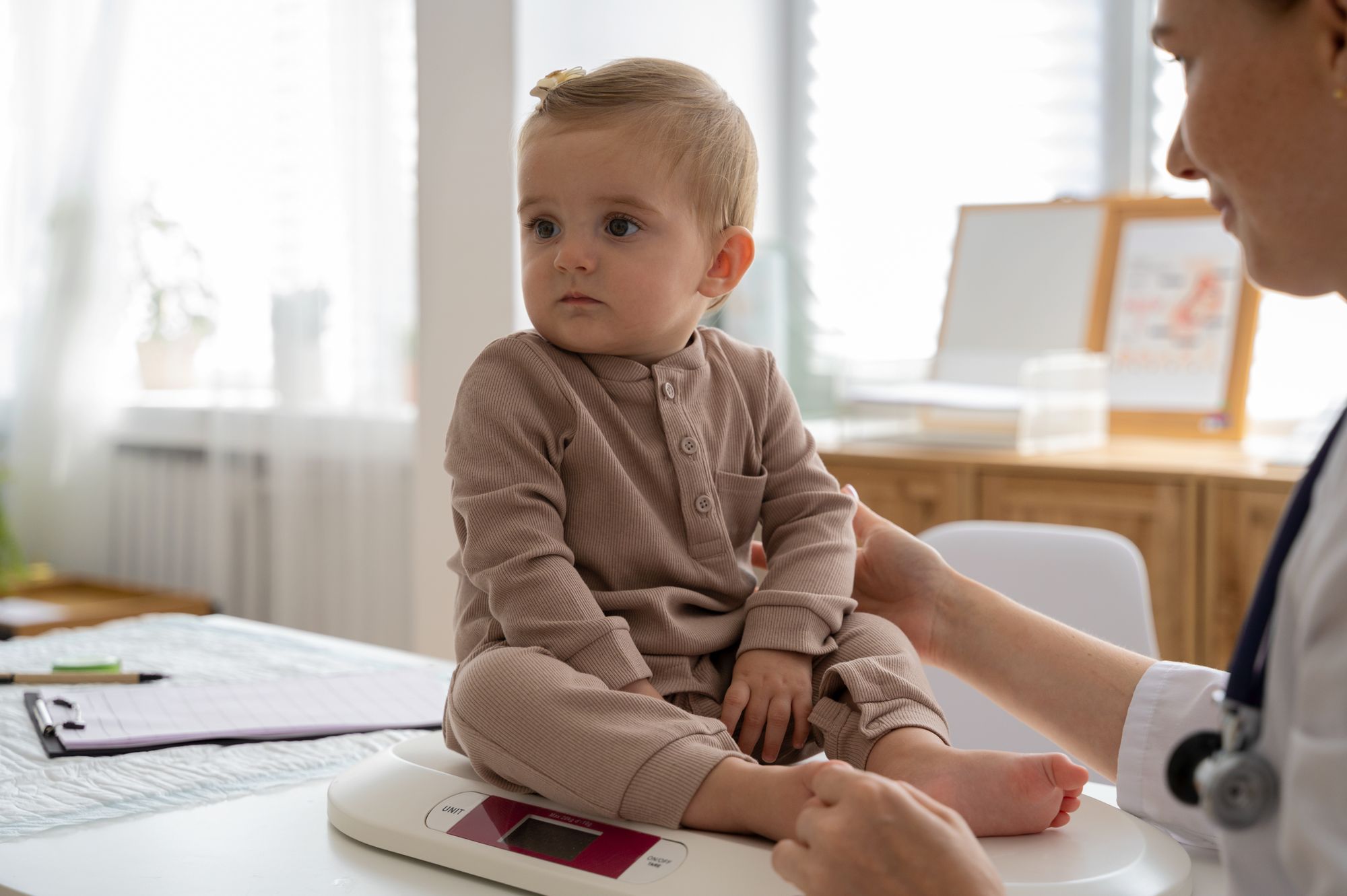 How Mother Bear Reviews Chooses The Best Baby Scale
Choosing a great baby scale isn't about picking the most expensive or the flashiest one on the shelf. It's about finding that perfect fit for you and your little one. Here at Mother Bear Reviews, we're all about practicality and effectiveness. So, how do we pick our top recommendation?
First up, accuracy. We want a scale that gives precise readings because every ounce matters when it comes to our babies. Next, we look at the ease of use. The scale needs to be simple to operate because let's face it, we parents have enough on our plates!
Of course, safety is a big factor. We look for scales with a secure, comfortable platform where your baby can lie safely. And finally, we consider the extra features. Some scales also measure height, or have a memory function - nice bonuses, right?
In short, we sift through the myriad options out there, so you don't have to. We are committed to helping you make the best choices for your precious ones.
Each of our products is carefully chosen and independently selected by our editors. If you choose to purchase something from our selection, we may receive a share of the sale because we are an Amazon Associate and earn from qualifying purchases (at no additional cost to you), which helps keep us in business. We hope you find something that sparks joy!
Our Top Picks
Most Accurate Baby Scale
Greater Goods Smart Baby Scale
Best Budget Baby Scale
MomMed Baby Scale
Best For Weighted Feeds
Smart Weigh Comfort Baby Scale
Best Baby Scale Overall
Health o Meter Grow with Me 2 in 1 Baby to Toddler Scale
Best Baby Scale With App
Beurer BY90 Baby Scale
Best Scale for Small Spaces
AccuMed Baby Scale
🤣
What did the mom say when she found out how much her baby weighed?
"It's heavy work being a parent!"
---
Greater Goods Smart Baby Scale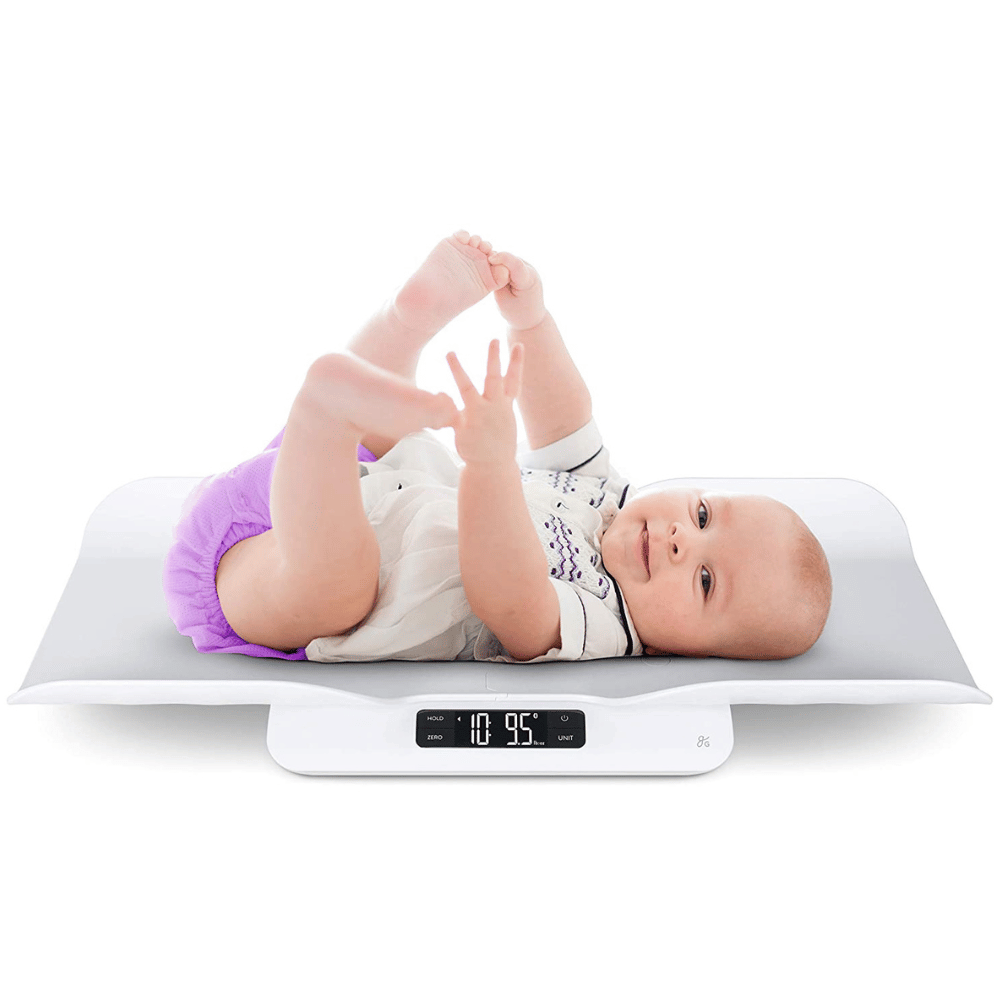 Greater Goods Smart Baby Scale
Check Price on Amazon
What We Love About It
The Greater Goods Smart Baby Scale is the perfect tool for tracking your infant's growth and progress. With a sophisticated in-house algorithm designed specifically for wiggly babies, this digital baby scale give you incredibly accurate weight measurements and is easy to use.
This accurate digital scale can be switched from infant mode to toddler mode effortlessly, and can even hold up to sixty-six pounds! Knowing your child's weight is essential when it comes to their health, so get yourself a Greater Goods Smart Baby Scale and make sure you have all the information you need.
Key Points To Keep In Mind
The Greater Goods Smart Baby Scale is a scale designed for accuracy and for weighing babies and toddlers. The single-sensor design ensures high accuracy, while the removable weighing tray and 66 lb capacity make this scale perfect for any growing child.
With 4 AAA batteries included, the large, easy-to-read reverse backlit display shows weight in lb: oz, lbs, and kg. Plus the scale uses Bluetooth technology to transfer your baby's weigh-ins to the Smart Baby App so you can easily track your child's measurements over time.
MomMed Baby Scale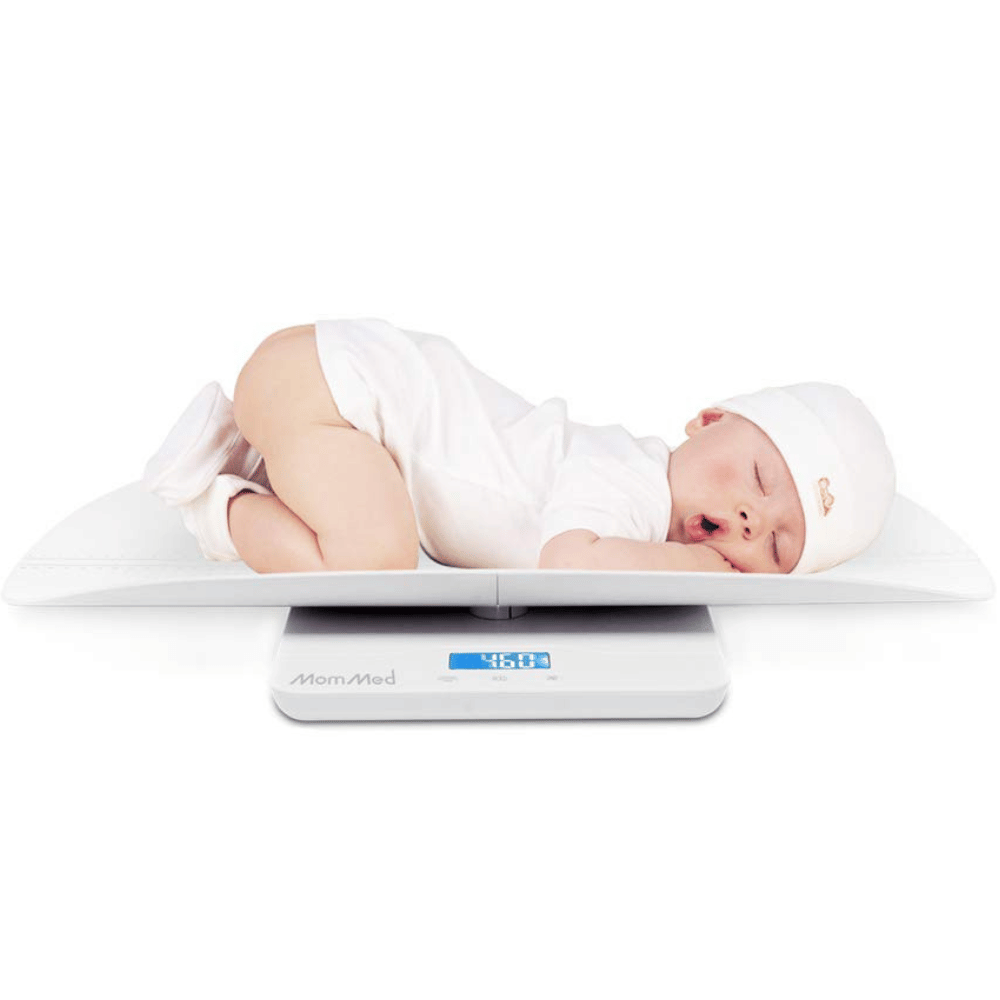 Check Price on Amazon
What We Love About It
If you're looking for a scale that can do it all, look no further than the MomMed Baby Scale. This amazing digital baby scale can accurately measure your infant's weight, height, and even age! With the height measurement inside the tray, this scale can also read the baby's height.
Plus, it comes with a comfy baby tray to ensure that your little one stays safe and secure while being weighed. The blue backlight provides a soft glow that is perfect for late-night weigh-ins, and the pet tray ensures that your furry friends can get in on the weigh-in action as well.
Key Points To Keep In Mind
This particular model has a measure range from 0.1lb-220lb (50g-100kg), so you can use the same scale also as an adult scale for weighing your whole family. The hold function keeps the weight on display even when your baby moves, which is very convenient. The bright backlit display makes it easy to see the numbers, even in low-light conditions.
Smart Weigh Comfort Baby Scale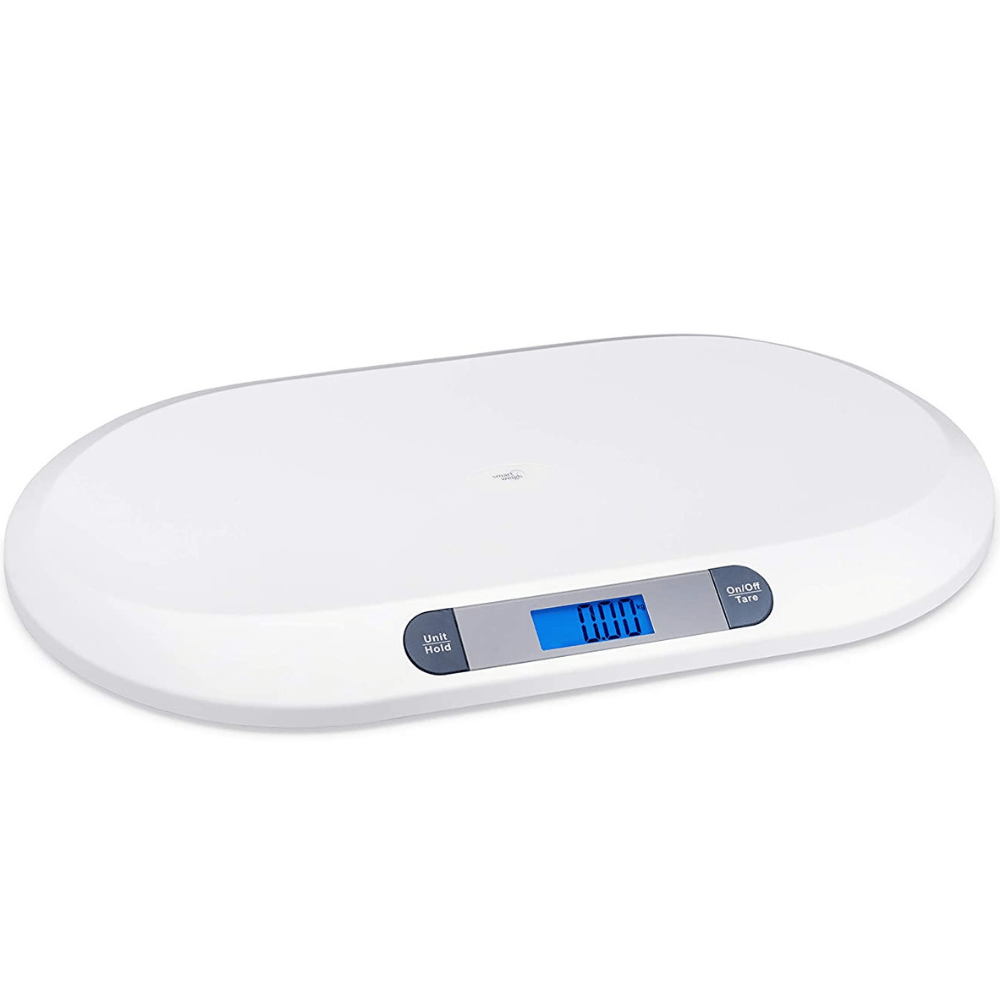 Smart Weigh Comfort Baby Scale
Check Price on Amazon
What We Love About It
Looking for a dependable baby scale that will give you accurate measurements every time? Look no further than the Smart Weigh Comfort Baby Scale. With a large, curved platform and soft surface, this scale is perfect for comfortably weighing your infant or toddler.
The three weight modes ensure that you'll always get an accurate reading. Best of all, this scale can be displayed in Kilograms (kg) or Pounds (lb), making it perfect for any parents who are looking to track their child's development over time.
Key Points To Keep In Mind
The Smart Weigh Comfort Baby Scale makes the process of weighing your baby easy and accurate, with three weighing modes and a 44-pound maximum weight capacity.
With the backlit LCD screen, you can easily see the weight reading even in low light, making it perfect for nighttime weigh-ins. Additionally, the slim design means that storage is a breeze - perfect for tight spaces. And finally, the auto-off function ensures that you don't waste battery power when you walk away from the scale.
Health o Meter Grow with Me 2 in 1 Baby to Toddler Scale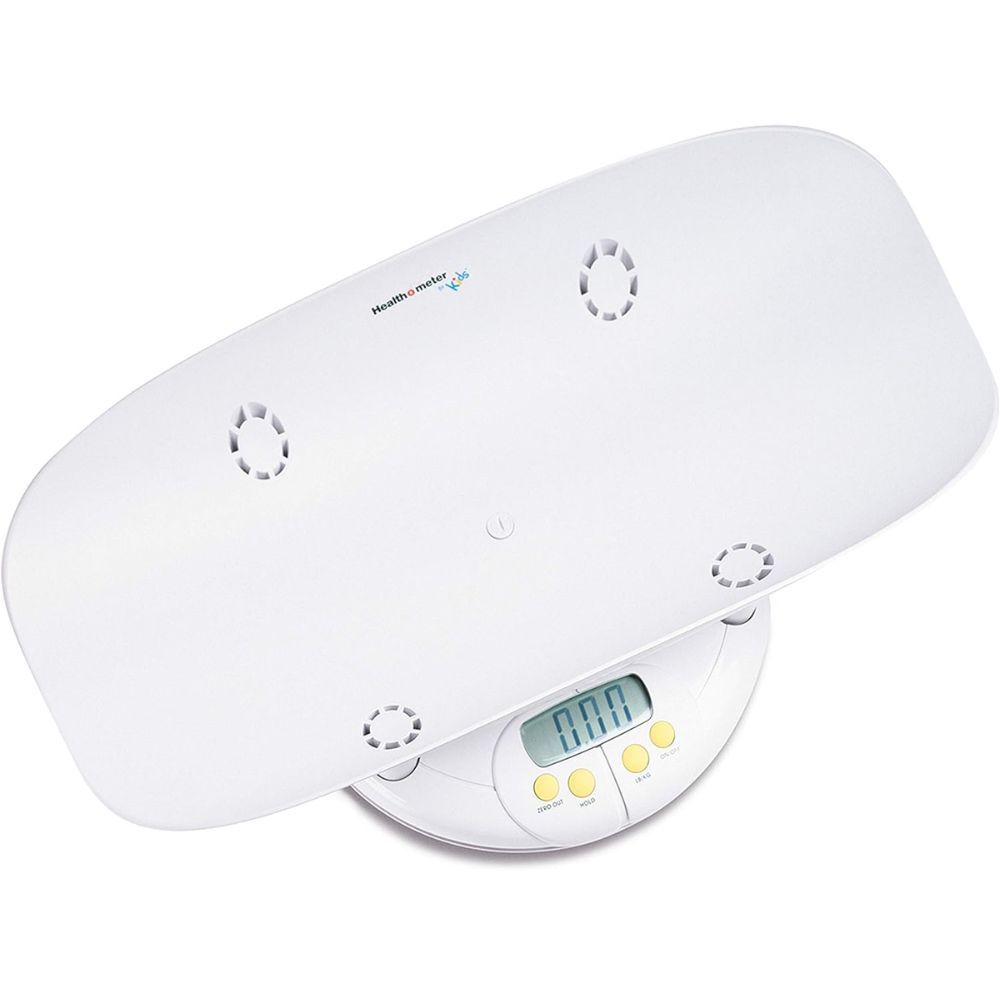 Health o Meter Grow with Me 2 in 1 Baby to Toddler Scale
Check Price on Amazon
What We Love About It
The precision the Health o Meter Grow with Me 2 in 1 Baby to Toddler Scale offers is impressive. It measures in 0.5 ounces or 0.1 kilograms increments, ensuring that you can track your little one's growth accurately between doctor visits.
One of my favorite features is the removable tray. When my kids were infants, the security lock on the tray provided much-needed stability during weigh-ins. As they grew into toddlers, I easily converted the scale by removing the tray, allowing it to measure up to a whopping 60 pounds!
The large LCD digital display is another standout feature on this baby and toddler scale. No more squinting to read the measurements - it's all there, clear as day. Plus, the Healthy Growth baby book that comes with the scale is a great tool for tracking your child's weight and height.
Key Points To Keep In Mind
This baby weighing scale requires a nine-volt battery, which isn't included. So, make sure you have one handy when setting up the scale.
The scale also includes a hold feature, which captures an average reading when your baby is moving. However, it may take a few tries to get an accurate reading if your little one is particularly active during weigh-ins.
Lastly, while the teddy bear design is cute and kid-friendly, some parents have reported that their toddlers were too distracted by it during weigh-ins. But in my experience, it just adds to the fun!
Overall, the Health o Meter Grow with Me 2 in 1 Baby to Toddler Scale is a versatile, accurate, and engaging tool that grows with your child. It's definitely one of the top baby scales out there!
Beurer BY90 Baby Scale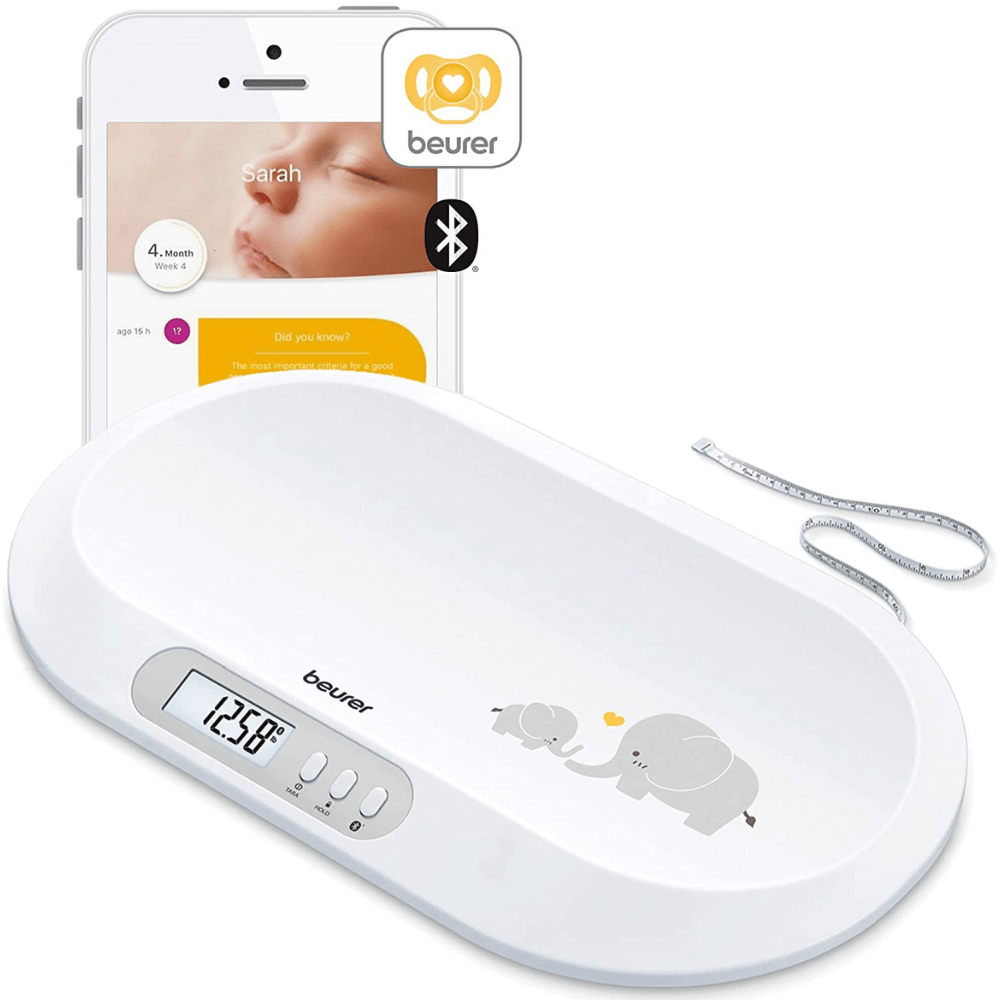 Check Price on Amazon
What We Love About It
Monitor your baby's growth with this sleek and stylish Beurer BY90 digital scale. The scale accurately measures weight & length with the built-in measuring tape, so you can be sure your child is growing as they should. The large backlighted LCD Display makes it easy to read the measurements, even in low light.
It utilizes high-precision sensors that measure up to 44 lbs., making it perfect for infants or toddlers. Additionally, the curved weighing platform provides a feeling of security and comfort for your little one.
Key Points To Keep In Mind
Weighing your baby is one of the most important things you can do to ensure their health and well-being. And with the Beurer BY90 Baby Scale, it's easier than ever. This digital smart scale syncs with the 'Beurer BabyCare' app, so you can track your child's weight over time and see how they're doing.
The Beurer BY90 also comes equipped with a tare function, which allows you to zero out the scale to take into account the weight of, for example, the baby blanket. Plus, the auto-lock function displays the weight when the scale is stabilized enough to detect an exact value.
AccuMed Baby Scale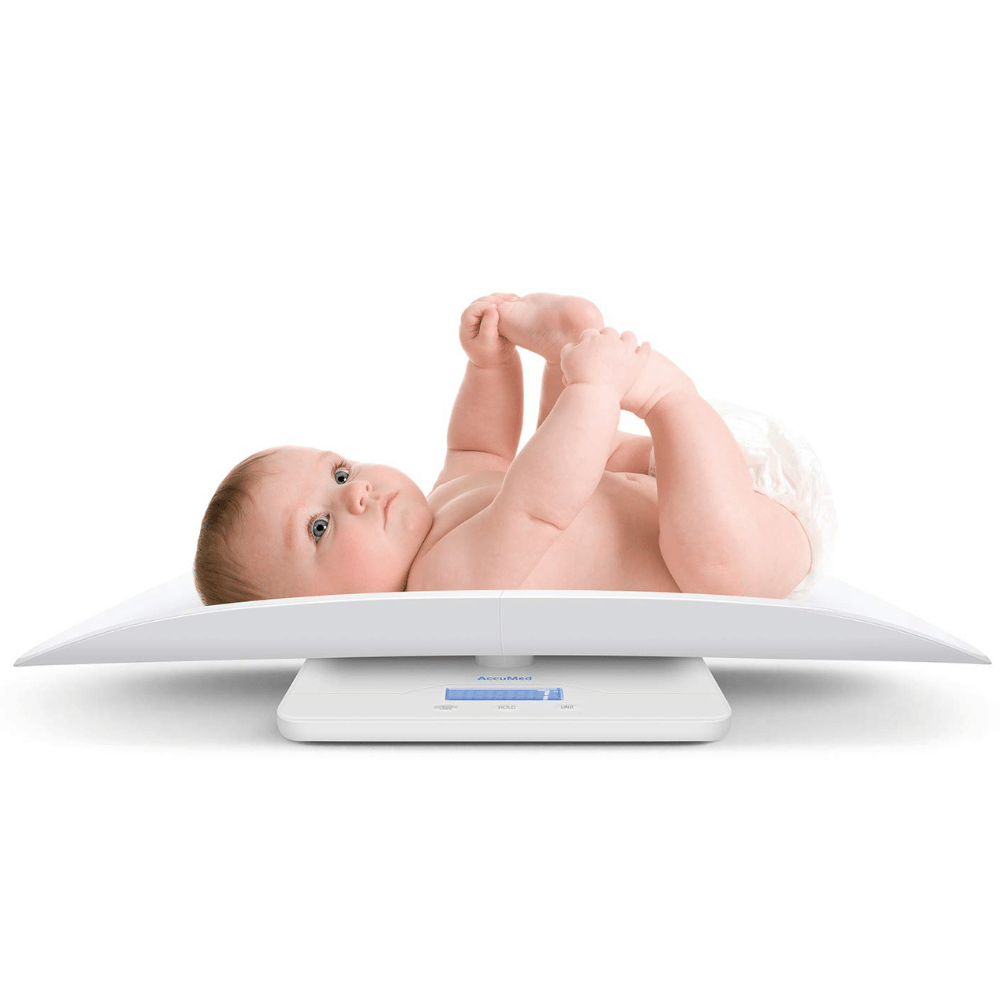 Check Price on Amazon
What We Love About It
The AccuMed Baby Scale is a digital scale that is perfect for weighing your baby. It has a blue backlight and a tare function that allows you to zero out the scale for more precise measurements. The large LCD screen makes it easy to read the weight of your child, and the scale also tracks height.
Key Points To Keep In Mind
AccuMed offers a variety of accurate and durable scales for your home and office. Whether you need to weigh your baby, your pet, or yourself, AccuMed has the perfect scale for you! All products are backed by a 30-day money-back guarantee and 1-year limited manufacturer's warranty.
Technical support is available 24/7 should you have any questions or problems with your scale. So why wait? Order your AccuMed scale today!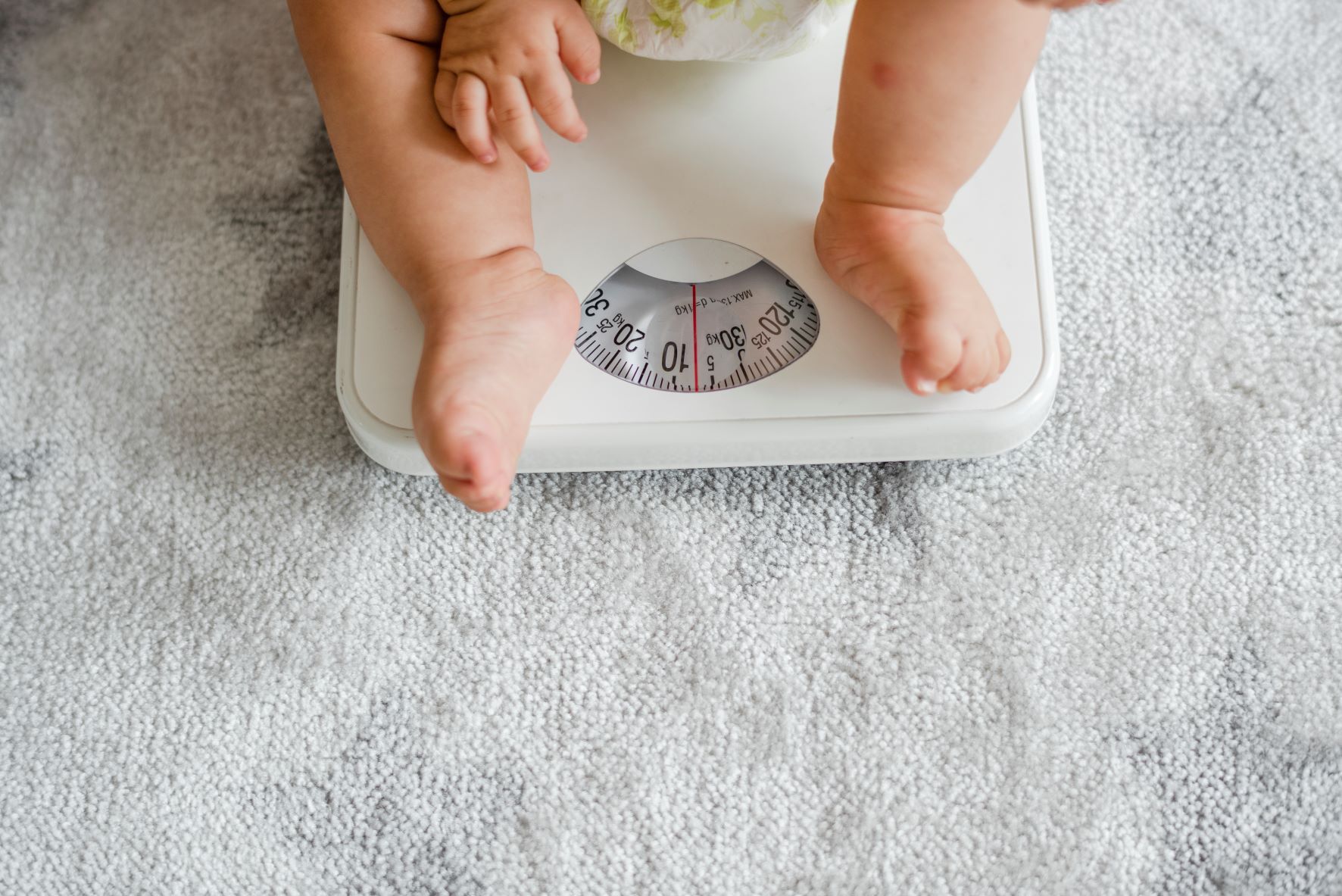 Best Baby Scale FAQ
How accurate are at home baby scales?
When used correctly, these handy gadgets can give you precise readings, even to the point of 0.1 ounce. And don't worry if your little one is a wriggler - some scales have their own weighing algorithms to ensure accuracy, no matter how much your baby moves. Just remember to keep those batteries fresh for the best results.
Do I need a baby scale for a newborn?
As a mom, I can tell you it's not a must-have, but it sure is a nice-to-have! Here's why.
First off, a baby scale at home gives you the freedom to track your little one's growth between visits to your baby's doctor. And let's be real, we all love seeing those numbers go up, don't we? It reassures us that our tiny tots are healthy and thriving, especially after that initial drop from their birth weight.
Secondly, if you're breastfeeding, a baby scale can be your best friend. By weighing your baby before and after feedings, you can gauge their milk intake. It's like having a secret window into your baby's meal times!
And lastly, it's all about convenience. No need to bundle up your newborn and rush to the doctor every time you want to check their weight. A baby scale allows you to do this comfortably at home, in your own time. Some scales also offer the possibility of measuring your baby's length.
So while a baby scale isn't an absolute necessity, it certainly can make your life as a new parent a bit easier.
How much does a baby scale cost?
There's a wide range of prices to suit every budget. You can find reliable baby scales for as low as $30, perfect for everyday use at home.
If you're looking for something more advanced, with extra features like Wi-Fi connectivity or larger weighing trays, you might be looking at around $100 to $500.
And for those who need top-of-the-line medical-grade scales, they can go up to $1500 or more.
What's the best way to weigh a baby?
Weighing your baby at home might seem like a daunting task, but don't worry! I'm here to guide you through it. So, let's get started with this simple, step-by-step process.
Step 1: Choose the Right Scale
First you'll need a baby scale. Trust me, these are designed to accommodate your little one's size and movement. And they can be super precise - some even measure down to the ounce!
Step 2: Calibration Time
Before you pop your baby on the scale, make sure it's zeroed out. Most scales have an automatic calibration feature but do double-check!
Step 3: Weigh Time
Now, gently place your unclothed baby on the scale. Make sure they're centered and not touching anything else. If your baby is a little wiggle worm (aren't they all?), look for a scale that has a hold function which can average out the weight, giving you an accurate reading.
Step 4: Record the Weight
Once you have the weight, jot it down. Keeping track of your baby's growth is not only fun (they grow so fast!), but it's also helpful for those pediatrician visits.
Step 5: Repeat Regularly
Weigh your baby at the same time each day, ideally just after a diaper change and before a feed, for the most consistent results.
What time of day should I weigh my baby?
Many experts suggest weighing your baby first thing in the morning, right after a diaper change and before their first feed. This gives you a consistent baseline as it's likely the "lightest" they'll be all day.
But remember, it's not about the exact number. It's about tracking growth over time. So, pick a time that works best for you and stick with it.
What safety precautions should be taken when using a baby scale?
Here are some important safety precautions to ensure smooth and safe weighing sessions.
1. Never Leave Baby Unattended:
This is rule number one! Even if your baby can't roll or move much yet, never leave them alone on the scale. We all know how surprising they can be with their sudden movements!
2. Check the Scale's Stability:
Before every weigh-in, make sure the scale is stable and secure on a flat surface. You don't want any wobbles!
3. Use the Safety Straps:
If your scale comes with safety straps, use them! They're there to help keep your baby safely in place.
4. Keep It Clean:
Regularly wipe down the scale with a gentle disinfectant. It's a good habit to keep germs at bay.
5. Gentle Handling:
When lifting your baby on and off the scale, do so gently. Remember, their bones are still developing and they're so delicate.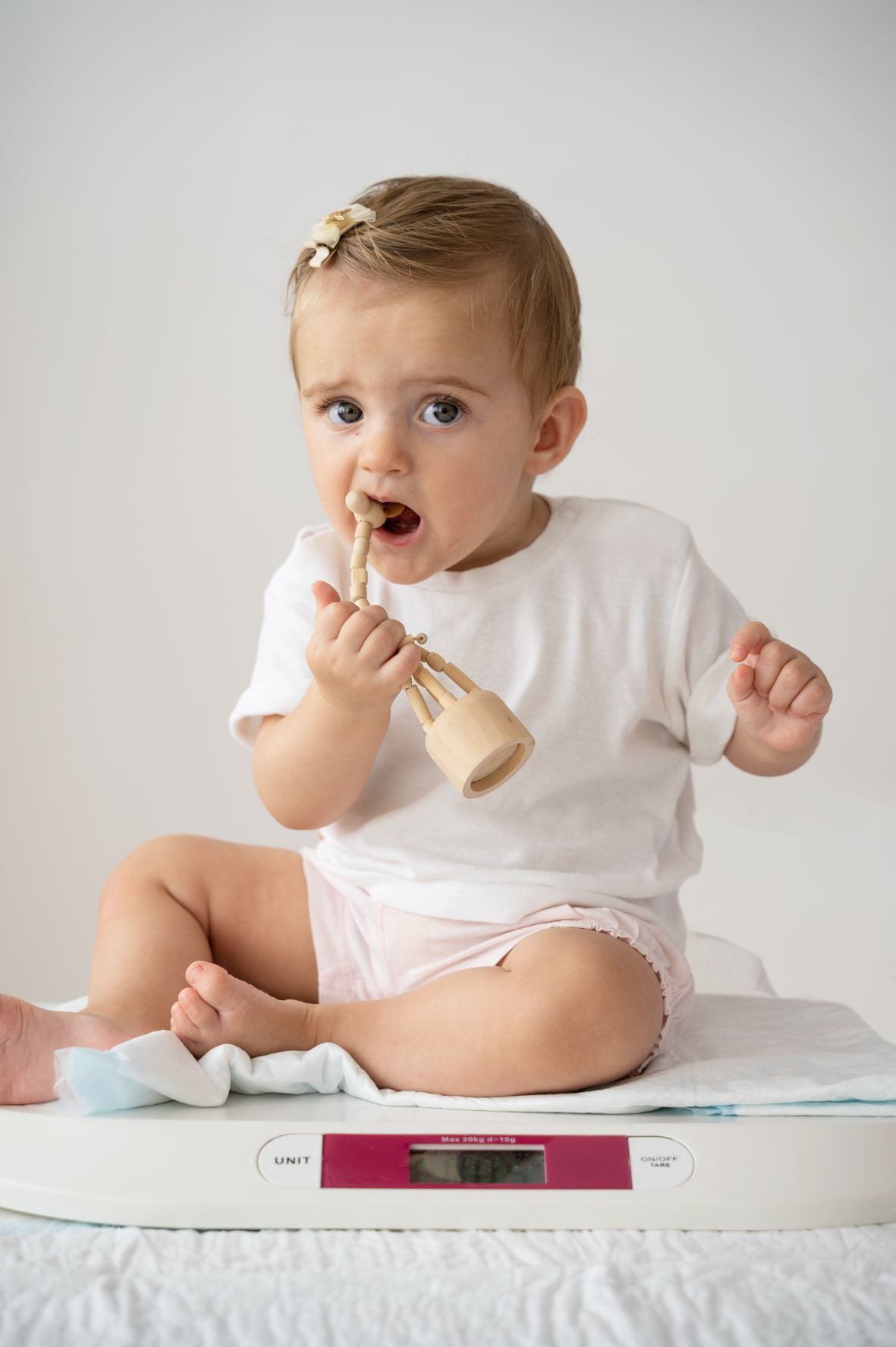 Final Thoughts
Thank you for taking the time to read our review of the best baby scales on the market. We know that this can be a difficult decision, and we want to ensure you're getting the best product for your needs.
Out of all the scales we've looked at, our top pick is Health o Meter Grow with Me 2 in 1 Baby to Toddler Scale. It has all the features you need to get accurate readings from your little one, plus it's easy to use, reliable, and cost-effective.
Thank you for reading Mother Bear Reviews, your favorite parenting blog!