Baby monitor features could be audio/video monitoring, temperature sensors, two-way communication, night vision, and Wi-Fi connectivity. Some models include lullabies, movement tracking, and smartphone app integration for added convenience.
A high quality baby monitor provides many advantages like peace of mind by letting you see and/or hear your baby even when you're in another room. And there are many more reasons to use a baby monitor.
But with all the different types and features available, it can be hard to know which one is right for you and your family. Let's take a look at the different types of baby monitors and their features so you can make an informed decision about which one is right for you.
The Different Types of Baby Monitors
Audio-only Baby Monitors
These are the classic baby monitors that have been around for years. They simply pick up the sounds your baby makes and transmit them to a receiver, allowing you to hear if your little one needs attention. Audio-only monitors are usually more affordable and straightforward to use. Some even come with DECT technology to minimize interference from other electronic devices.
Real-life experience: My sister-in-law swears by her audio monitor. She loves its simplicity and says it's perfect for her minimalist parenting style.
Video Baby Monitors
Top video baby monitors let you see as well as hear your baby. These monitors include a camera that transmits live footage of your baby to a screen on the parent unit or, in some cases, your smartphone.
Many video monitors come with pan/tilt/zoom capabilities, and even two-way communication, so you can soothe your baby from afar. The best baby monitor cameras even come with night vision so you can see your baby even in the dark.
Real-life experience: I've used a video baby monitor with my youngest, and it's been a game-changer. I can check on him without disturbing his sleep and enjoy peace of mind knowing he's safe.
Wi-Fi Baby Monitors or Smartphone Baby Monitors
These monitors connect to your home Wi-Fi network and allow you to see and hear your baby via a smartphone app. They often come with additional features like temperature and humidity sensors, customizable alerts, and even lullabies. Just make sure to prioritize security when choosing a Wi-Fi-enabled baby monitor.
You can download these apps on both iOS and Android devices, and they're usually free or very affordable. Some newer models come even with voice-control features.
One downside to smartphone baby monitor apps is that they only work if your phone is connected to Wi-Fi, so if there's an interruption in service, you could lose the connection. Another downside is that someone else could theoretically hack into the app and view your child's feed without your permission.
Real-life experience: My cousin loves her Wi-Fi baby monitor, as it allows her and her husband to check on their baby from anywhere, even when they're at work.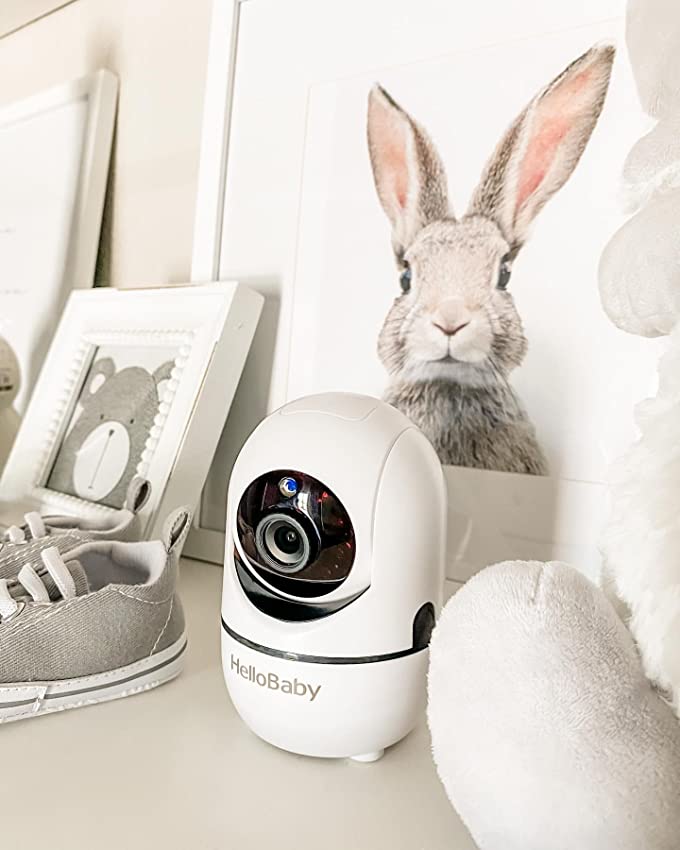 The Different Types of Features
Here are some of the key features you should look for when choosing a baby monitor:
Clarity of Sound
When it comes to a baby monitor, sound quality is the most crucial factor. It should be crystal clear, and you should be able to hear all the sounds your baby makes, from whimpers to cries. Always look for baby monitors that come with a two-way communication system, allowing you to speak or sing to your baby.
Two-Way Talk
Most baby monitors have a two-way talk feature that lets you talk to your baby even when you're not in the same room. This can be useful for soothing them back to sleep or just checking in to see how they're doing. This feature can come in handy for parents who have a baby that gets easily agitated.
Portability
Portability is another crucial feature you should consider. Portable baby monitors are compact and easy to carry around, which makes them convenient for parents on the go. If you travel often, then you might want to look for a baby monitor that can fit snugly inside your diaper bag.
Range
The range is an important factor to consider when buying a baby monitor. The monitor should have a long-range, so you can move around the house while your baby is sleeping. Generally, most baby monitors come with a range of 300 - 1000 feet.
Video Display
In addition to sound, having a video display on your baby monitor can offer greater peace of mind. It allows you to see if your baby is sleeping or awake and if they're safe, even when you're not in the same room.
Video Quality
A high-quality video feed is essential for keeping an eye on your baby. Look for monitors with at least 720p resolution and a clear picture
Battery Life
Battery life is another essential feature that shouldn't be overlooked. Look for baby monitors with a long-lasting battery, so you're not constantly recharging it—some baby monitors come with rechargeable batteries, while others use disposable batteries. Many monitors also have a power saving mode.
Sensor Technology
Some baby monitors come with advanced sensor technology that alerts you if your baby stops breathing or if there are any sudden movements. This is especially useful for parents who want that extra level of security.
Night Vision
Also, look for baby monitors that come with night vision. This feature will let you see your baby in a dark room, so you don't have to turn on the lights and disturb their sleep. Night vision is for most video monitors a standard feature.
Temperature Monitoring
Temperature monitoring is only available on certain types of baby monitors, but it can be a useful feature if temperature regulation is something you're worried about.
App enabled
Some baby monitors come with apps that allow you to check in on your baby from your smartphone or tablet. These type of monitors require a connection to WIFI.
Sound Activated Lights
These lights will turn on automatically when they detect noise, which can help check on your baby without turning on the light and disturbing their sleep.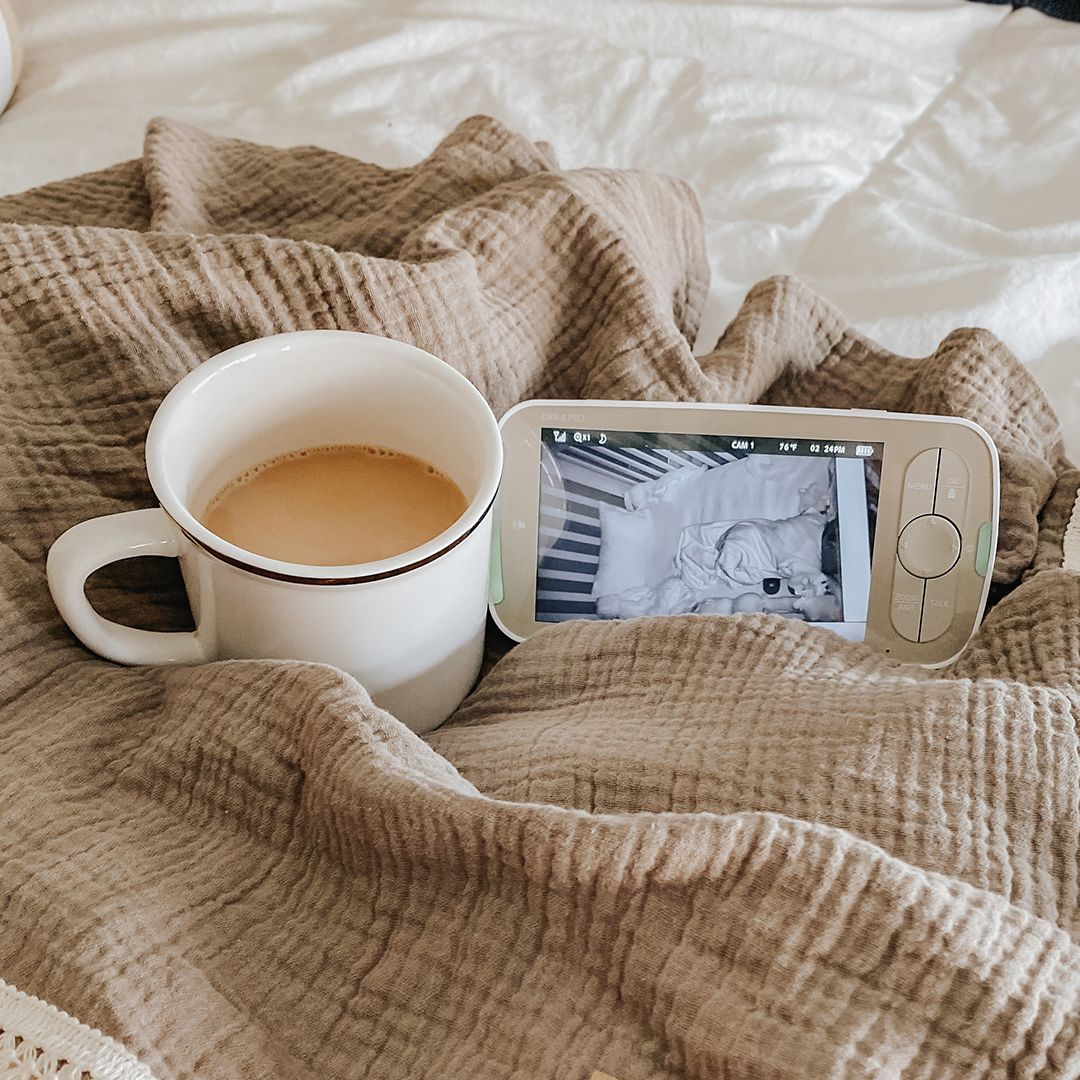 Final Thoughts
Choosing the right baby monitor can be quite daunting. However, with the above features in mind, you're sure to find the ideal baby monitor to suit your family's needs. Whether it's a video monitor, audio monitor, or one with lots of additional features, you should always prioritize the baby's safety and comfort.
In conclusion, a baby monitor is an essential tool for all parents, whether you're a first-time parent or a seasoned parent. Therefore, take your time, do your research and consider all the features that matter most to you when choosing the right baby monitor.
With the right device, you can keep your baby close and give them the best care they need, even when you're not in the same room.
Thank you for reading Mother Bear Reviews, your favorite parenting blog!