Shopping for baby boy clothes can be overwhelming. With so many options, how do you know which ones will be safe and comfortable for your little one? Here are some tips on what to look for when selecting baby boy clothes that will keep your little one stylish and happy.
Durability & Comfort
When looking at baby boy clothes, it's important to consider both durability and comfort. You want clothing that is going to last through all the messes, spills, and tumbles of a growing toddler but you also need something that won't irritate their delicate skin. Look for fabrics such as cotton or bamboo which are soft and breathable but still strong enough to stand up to wear and tear. Avoid synthetic materials like polyester and nylon which can cause itchiness and discomfort.
Age Appropriate Styles
You want your little one to look dapper but also age-appropriate. While babies may look cute in anything from stripes to animal prints, you don't want them wearing clothing that looks overly mature or infantile as they get older. Options like pocket tees, khakis, polo shirts, shorts, hoodies, button-down shirts, and sweaters are great choices that are both stylish and age-appropriate for any stage of life from newborn to toddlerhood. And always consider how you can layer the clothing choices.
Safety First
It can be tempting to dress your baby in accessories such as hats with straps or shoes with laces, but these items can pose a safety hazard as they can easily become entangled in cribs or other furniture if not monitored carefully. Opt instead for headbands or beanies without ties as well as slip-on shoes or booties with elastic bands that won't restrict movement while keeping their feet warm. You should also avoid purchasing clothing with lots of buttons or zippers since those can present choking hazards if they come loose—there's nothing worse than having to rush your child off to the ER after a wardrobe malfunction!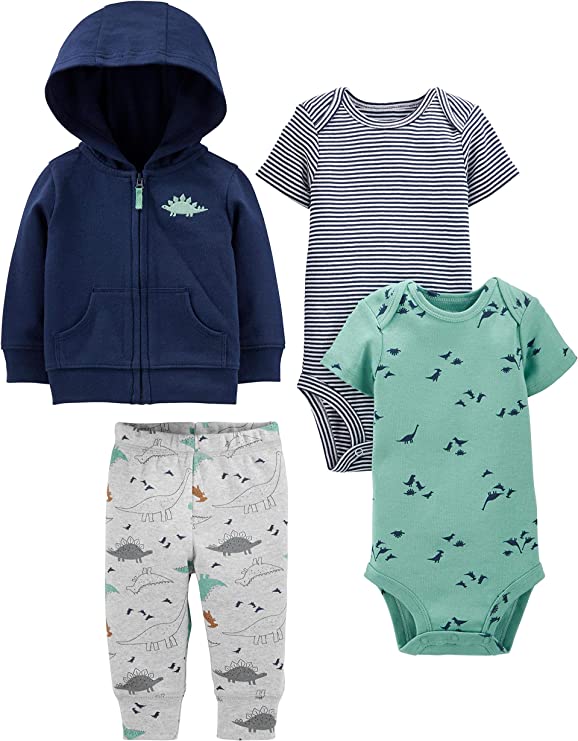 Conclusion
Dressing your little one up doesn't have to be complicated. To make your search a little easier we have put together a few choices for you. So check out our article about the 'Best Baby Boy Clothes' for recommendations on which outfits to choose. From charming onesies to stylish rompers and cozy sleepwear, we've rounded up all of the cutest clothing that your baby boy needs to make a fashion statement! So, why delay? Get dressed and ready to take on the world - one fashionable step at a time!